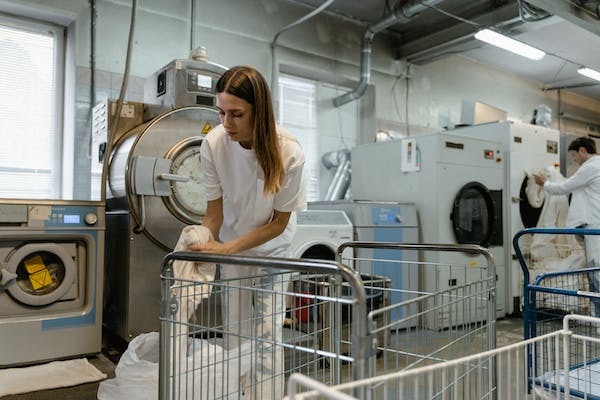 CALGreen Code Section A5.303.3: Appliances and fixtures for commercial application.
Appliances and fixtures are a major end use of all water used in modern buildings. Commercial appliances and fixtures are usually larger designed to process larger loads. This makes them even bigger consumer of resources. It is vital to optimize their performance and put a cap on the amount of water they should consume. Following is the code language produced to regulate them.
Appliances and fixtures shall meet the following:
1. Clothes washers shall have a maximum Water Factor (WF) that will reduce the use of water by 10 percent below the California Energy Commission's WF standards for commercial clothes washers found in Title 20 of the California Code of Regulations.
2. Dishwashers shall meet the following water use standards:
a. Residential—ENERGY STAR
i. Standard Dishwashers – 4.25 gallons per cycle.
ii. Compact Dishwashers – 3.5 gallons per cycle.
b. Commercial—Shall be in accordance with ENERGY STAR requirements. Refer to Table A5.303.3
3. Ice makers shall be air cooled.
4. Food steamers shall be connectionless or boilerless and shall consume no more than 2 gallons of water per pan per hour, including condensate water, for batch type steamers, and no more than 5 gallons of water per pan per hour, including condensate water, for cook-to-order steamers.
5. The use and installation of water softeners that discharge to the community sewer system may be limited or prohibited by local agencies if certain conditions are met.
6. Combination ovens shall use a maximum of 1.5 gallons of water per hour per pan, including condensate water.
7. Commercial pre-rinse spray valves manufactured on or after January 1, 2006 shall function at equal to or less than 1.6 gpm (0.10 L/s) at 60 psi (414 kPa) and
a. Be capable of cleaning 60 plates in an average time of not more than 30 seconds per plate.
b. Be equipped with an integral automatic shutoff.
c. Operate at static pressure of at least 30 psi (207 kPa) when designed for a flow rate of 1.3 gpm (0.08 L/s) or less.
8. Food waste pulping systems shall use no more than 2 gpm of potable water.
8.1 Note: potable water excludes on-site graywater use, such as dishwasher discharge water.
Intent:
The intent of this measure is to reduce indoor potable water use when a project includes water using appliances supplied as part of the construction contract, not just plumbing fixtures. It may also be used to assist in compliance with the mandatory requirement of 12-percent reduction in Section 5.303.2, Tiers 1 and 2, or the 25-percent reduction. Section 5.303.2 of this code mandates reduced flow rates. If a tier is adopted by your city or county, a 12- or 20- percent reduction will likely be required, and there may be a local ordinance in place otherwise for a reduction in water usage.
Compliance Method:
Show in the construction documents the appliance specifications meeting these criteria. If substitutions are made during construction, provide documentation that the substituted appliances also meet them.
Enforcement:
Plan intake: The plan reviewer should confirm that the construction documents' appliance specifications meet the criteria. Any deferred approvals should be checked for compliance.
On-site enforcement: The inspector should verify that the specified water-using appliances are installed. The inspector may review the fixture specifications or approved substitutions to verify compliance or accept a self-certification form.
(Excerpted from 'Guide to the 2019 California Green Building Standards Code Nonresidential' – Chapter 5)